Do you want an Art Store or a WordPress blog?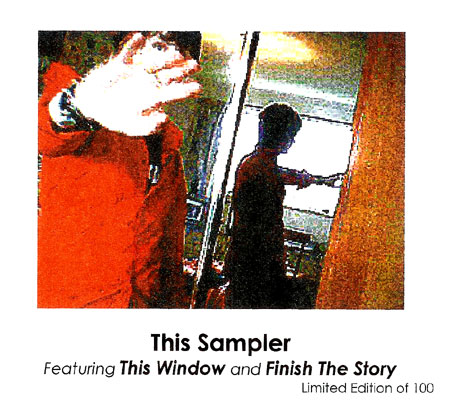 All products are shipped via Royal Mail
There is no need to register on this site to purchase goods, just choose what you want and click on the Add to Cart button, this will take you straight to the PayPal payment option.
All items are posted using Royal Mail.
Orders dispatched within two working days.
We accept reasonable return requests.
Price includes shipping.

Here is an opportunity to buy a limited edition CD featuring This Window and Finish The Story. This is a limited edition CD and has the same tracks and track listings on The Sampler #05 More details here on Discogs...

Review:

"…now their inclusion had been settled five Finish The Story tracks. 'Playing At Life' is even better with a mean throb, and more of his sublimely catchy, nagging guitar with Nicola's unusually piercing vocals and a weirdly spooky synth. 'Solace' is more relaxed, actually far more towards the This Window style, being like ambient bellows, billowing………..and there's an intriguing little slice called 'Ripples In The Water' at the end too."




Contact us for a FREE quote for special deals for artists during 2022
Get your art blog and store noticed and listed in directories and search engines – a good blog sells products and dreams. Our team at
North Devon Web
can provide a full range of services that will help you achieve your goals. We can repair and add new exciting features and functionality to your site. Whether your project will take minutes or hours, we are available to help you each step of the way. 'Green' web site – hosting is available from us.



We can also build you an Store or a WordPress blog.
My art for free
This image is a version of a lithograph I did in 1978. To download it (high resolution) click on the image. This print was manipulated using Photoshop in 2002 and exhibited in 2004. The original lithograph, which is framed and …
Continue reading →