Handmade Noah's Arks in Mixed Wood | Handcrafted #woodentoys #handmade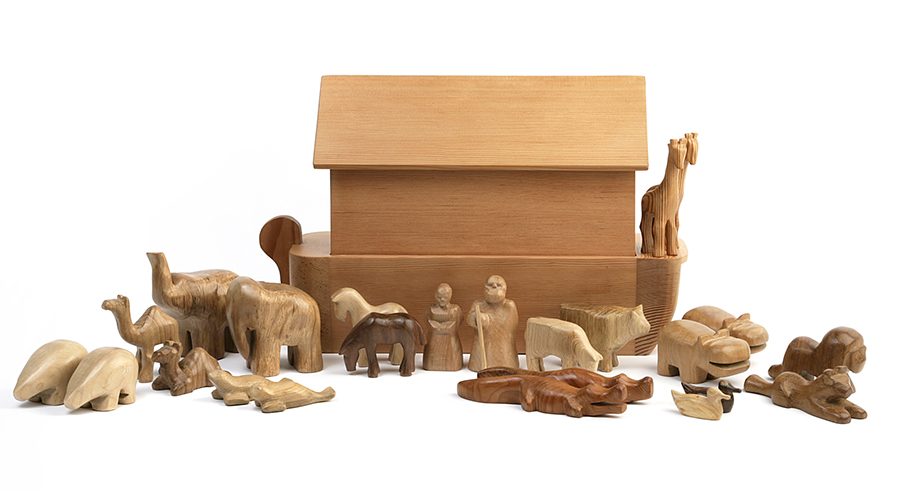 Handmade Noah's Ark in Natural Wood
All my Ark sets are handmade in the workshop at the bottom of my garden in Devon. The 'Ark Set in Mixed Woods' is a collection of 12 pairs of animals whose character is best expressed by the rounded forms and natural decorative qualities of the woods. The Ark set is a library of woods, mostly locally sourced. Among those I use are pitch pine, black walnut, apple, pear, magnolia, sapele, sycamore, oak, yew, cherry. sourced. The Ark is made from 'clearer and better' Columbian pine, and a roof and the house lift off. The set is finished in beeswax which serves to enhance and protect the surface of the different timbers. With each ark I include a list of the woods in that particular set. Through handling, the collection becomes a means of identifying the different woods.
Size 20" x 13" x 7"
David Plagerson Handcrafted Noah's Arks
My wooden Noah's Ark sets were inspired by the traditional ones I first saw in the Bethnal Green Museum of Childhood, Like those, mine are hand-made and richly painted, designed to be pleasing to the eye and hand, and strong enough to withstand vigorous play.
Each Noah's Ark set is an individual selection from within my existing range of ark designs, and over 100 different pairs of animals. The list continues to grow. Both children and adults have asked me to create everything from exotic, extinct and mythical animals, to family pets. I can also make bespoke arks, based on your own home.